Greyhound Bridge Lancaster
We are finalising the development of a scheme to carry out major maintenance works on Greyhound Bridge Lancaster.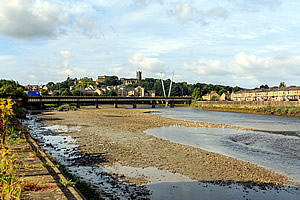 Greyhound Bridge carries the A683 (Greyhound Bridge Road) over the River Lune. Refurbishment is required to maintain the capacity of the bridge and to prevent the implementation of restrictions to Abnormal Loads and all HGVs. The works required had been deferred for a number of years until the completion of the Bay Gateway.

The bridge has been the subject of general inspections every two years since 1995. Based on the current rate of deterioration the following restrictions would be required to be implemented:
2018 – closed to abnormal loads
2020 – closed to all HGVs, implement weight restrictions and permits for fire engines
2029 – bridge closed to all vehicles
In August 2017 funding was secured to carry out the work.
Outline of the scheme
The total estimated cost of the works is around £4 million. The proposed work comprises replacement or renewal of a number of features including:
Installation and maintenance of temporary traffic management
Concrete repairs, including installation of galvanic cathodic protection and, recasting of large areas at the joint positions
Replacement of buried joints
Replacement of expansion joints
Repainting of parapet, piers and superstructure
Deck waterproofing
Carriageway and footway resurfacing
Maintenance repairs to two adjacent bridges and a sign gantry
AEYates have now been appointed as Principal Contractor for the scheme and will start working on the contract from the beginning of December 2017.
Programme and road closures
Greyhound Bridge Road will be completely closed.
Closure dates are now confirmed as 29 January 2018 – 4 August 2018.
The remainder of the works to be carried out with a minimum of 2 lanes open on Greyhound Bridge and will be completed by late autumn 2018.
Alternative routes will be available for motorists, pedestrians, cyclists and bus passengers.
It is proposed to remodel the road network in the area for the duration of the closure to allow two way running on Skerton Bridge will start end of 2017. This will be carried out at off peak times and overnight to minimise disruption to the road network during the build up to the main works.
Bus service changes