Greyhound Bridge Lancaster
Lancaster's Greyhound Bridge is closed for major repairs until 4 August 2018.
The rest of the works will be carried out with a minimum of 2 lanes open on Greyhound Bridge and will be completed by late autumn 2018.
Alternative routes
There are alternative routes for motorists, pedestrians, cyclists and bus passengers.
Driving
While Greyhound Bridge is closed the nearby Skerton Bridge will be two-way.
Traffic travelling north via Caton Road will be diverted at the Parliament Street/Bulk Road junction via Greyhound Bridge Road, Morecambe Road and Skerton Bridge.
Below are some suggested driving routes. Depending on your location, cycling or taking the bus or train may be a better option.
North of city centre to Heysham or Morecambe
Go straight up Caton Road and onto the Bay Gateway heading west.
South of Lancaster to Heysham or Morecambe
Depending on how far south of the city centre you start either go straight up Caton Road and on to the Bay Gateway heading west, or head south to M6 junction 33 and then north on the M6 to junction 34 and on to the Bay Gateway heading west.
Cycling
Bus service changes
About the scheme
Lancaster's Greyhound Bridge needs major maintenance works to ensure it retains the strength to carry big HGVs.
The total estimated cost of the works is around £4 million. The proposed work comprises replacement or renewal of a number of features including:
Installation and maintenance of temporary traffic management
Concrete repairs, including installation of galvanic cathodic protection and, recasting of large areas at the joint positions
Replacement of buried joints
Replacement of expansion joints
Repainting of parapet, piers and superstructure
Deck waterproofing
Carriageway and footway resurfacing
Maintenance repairs to two adjacent bridges and a sign gantry
About the bridge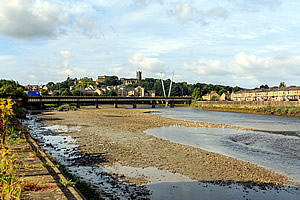 Greyhound Bridge carries the A683 (Greyhound Bridge Road) over the River Lune.
It was constructed in 1911 as a railway viaduct and converted to a road bridge in 1972 with the addition of a reinforced concrete deck on top of the original steel construction.
It has 9 spans, 8 piers and is 204.3m long and 12.66m wide.