Sarah and Zia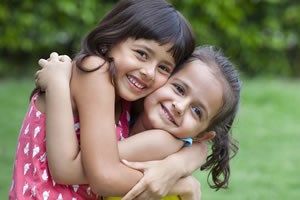 We were in our late 30s when we discovered that we were unable to have children naturally. We met overseas and then moved to the UK to live together permanently.
As we have white British/Asian heritage we initially considered overseas adoption but after some consideration, we decided to embark instead on the domestic adoption route and made an application with Lancashire's Adoption Service. 
We were eventually approved for siblings aged up to eight years and were matched with sisters who were also dual heritage - their birth mother was white British and their father was Asian.  The children had been waiting for an adoptive family for a significant period of time.
After a period of introductions we were excited to finally be able to bring the girls home but it was stressful.  The eldest child struggled and it took nearly four years for the girls to properly settle in.
Now, six years down the road we hope that we are assisting the girls to understand what happened to them and to deal with any crisis. We recognise as adopters that you can't change the past but you can influence the future. We have continued to receive post-adoption training and support from Lancashire and have been put in touch with other adopters in a similar situation.