John and Robert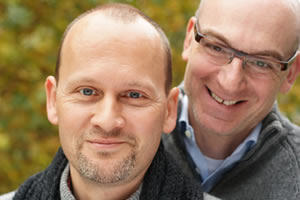 Our initial telephone call reassured us that our enquiry would be treated in a positive manner.  The social worker we spoke to explained that Lancashire County Council had experience of placing children with same sex couples, both male and female.  It was explained to us that Lancashire's adoption service was seeking a variety of parents to meet the diverse needs of the children awaiting placements.  We received the informative pack and decided to go ahead.  We then attended the initial interview with renewed confidence and enthusiasm. 
Having met with social workers and read all the information provided, John and I committed to an application and attended the 3 day preparation course. We were a little anxious about how other potential adopters may respond to our desire to become parents but the people we met were a diverse bunch including single carers, heterosexual couples with birth children and foster carers wishing to adopt the child they were caring for.  
We have made some great friendships from this group and these have been maintained through us all having children placed with us.